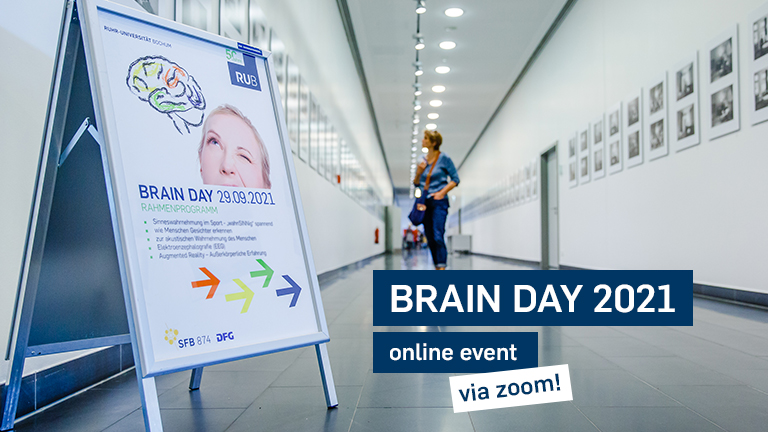 The countdown is running:

BRAIN DAY 2021 on 29. September as online event
A day dedicated to the neurosciences in Bochum with lectures, information and hands-on activities.
The BRAIN DAY is taking off for a new run! This year's agenda includes a wide range of specialist lectures, including the following scientists:
Prof. Dr. Elena Enax-Krumova (Neurological Clinic, BG-University Hospital Bergmannsheil Bochum),
PD Dr. Dirk Jancke (Institute for Neuroinformatics, RUB)
Prof. Dr. Georg Juckel (LWL University Hospital Bochum) and
Prof. Dr. med. Uwe Schlegel (Neurological Clinic, Knappschaftskrankenhaus Bochum).
The supporting programme will include activities on
selective attention with Prof. Dr. Sen Cheng (Institute for Neuroinformatics, RUB) and
Beat, Sound & Speed with Michael Bradke (MobilesMusikMuseum, Düsseldorf)
will provide entertainment and amazement.
When? Wednesday, 29 September 2021 (approx. 14.00 to 17.30), as zoom-conference.
All interested people are invited to reserve a corresponding place in their calendars already now.
In 2021, the BRAIN DAY will be held exclusively as a virtual event for the first time. This is the response of the SFB 874 to last year's cancellation due to Corona. As a fully virtual format, the new edition in 2021 now offers the highest possible security for the health and the planning of all visitors.
Participants need nothing more than an internet-enabled device with a camera and microphone/speakers, such as a computer, laptop, tablet or smartphone. We look forward to welcoming all visitors!

BRAIN DAY team of the Collaborative Research Centre 874
As always, participation is free of charge.
Further information on registration, technology and a detailed programme will be published in the coming weeks.